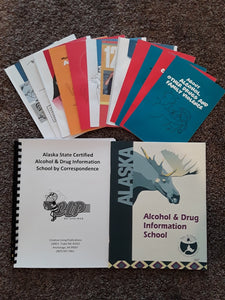 What Do You Know About Alcohol/Other Drugs? And . . . A Plan For Change

COURSE PURPOSE

This Correspondence Course is Certified by the State of Alaska and is designed to:

Help the client understand the effects of alcohol and other drugs on driving and social behaviors, as well as health and legal consequences.

Equip the client for making any desired life changes based on what they have learned.
This 12 hour course includes a pre-test, twelve lessons, and a final test.
Each lesson is divided into three parts:

A reading assignment from provided workbooks.
A worksheet reviewing the information covered.
Interactive Journaling® exercise developed by The Change Companies® and the State of Alaska to help the client personalize the material.
Shipping Options Include:
OPTION 1: USA Priority: $10
OPTION 2: USA Express: $30
OPTION 3: INTERNATIONAL - USPS International: $50